A few weeks ago I participated in the Ludum Dare #32 game jam.  Tomorrow, the game that was created, was my sixth Ludum Dare entry and my first with a team in the 72-hour relaxed version of the jam competition.  Here's how it turned out!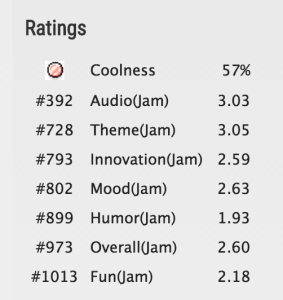 I am exceptionally happy with these results. Considering the competition, being ranked in two categories with threes is a nice bonus and also a new record (Tiny's Adventure in TV Land, my previous solo Ludum Dare #31 game, only received one three).  I also broke a new blog length record writing up the postmortem.
Between now and the next Ludum Dare I have quite a bit of work to do. It feels good to know I'm advancing as a game developer while doing it.