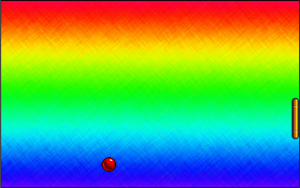 A couple of weeks ago I created an entirely hands-free pong game demo in JavaScript for the Mini Ludum Dare #58.  The theme of this game development jam was "Pong" and I gave it a new twist.
You can check out the game here.  Note you'll need a mac laptop running chrome to play the game demo and you'll also need to give the browser access to your microphone when you visit the page.
I first got the idea for a hands-free game after seeing implementations by Daniel Rapp that used the doppler effect to track hand motion. His work seemed like the perfect basis for a game, and what's remarkable about it is that it works so well. I've left the game on by accident and watched it continue to track hand motions from someone sitting across from me after I pulled back my chair.
I put this demo together in a few hours for the Mini Ludum Dare game jam and I'd like to expand on the concept by making a more involved game in the future. From swatting flies to leveling a space ship, there's enough here with this mechanic to be quite entertaining.