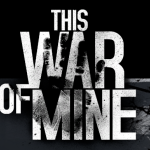 I've finally had the chance to play the incredibly awesome This War of Mine by 11 Bit Studios. The game is a survival-sim crossover somewhere between Don't Starve and Fallout that captures the feeling of wartime desperation and desolation.
This single-player game begins with a cast of characters that have to survive a war together in an abandoned half-destroyed house in a blockaded city. The outlook initially seems positive: at least one of the characters has an immediately usable skill and resources scattered around the house can be used to craft tools and repair the shelter. However, security quickly vanishes as the player is forced to send out characters to scavenge and replace dwindling supplies and make what feel like imbalanced trades for sustenance.
Actions matter too. In games like Fallout inhumane conduct is easier and almost encouraged in the resource gathering process. This War of Mine constantly reminds the player that there are always consequences. Early on, I accidentally killed a hospital worker after I was caught stealing and my character had a crisis of conscience so severe they never came out of it.
Character death is also sudden and final. This can shake things up after a span of successful scavenging runs — all it takes is being the wrong place and time to end things.
My favorite part of This War of Mine is the balance and pacing. My games seem to last about a month of in-game time, which is just long enough to feel like there's a chance of rescue when the scenario gets grim.