The results are in, and I'm happy to say Tiny's Adventure in TV Land did much better than I expected!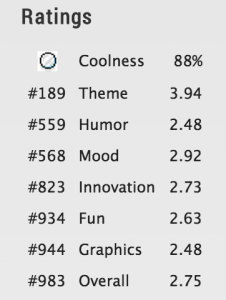 I'm especially proud of the 3.94 I got in the Theme category!  One hope I had from this competition was to get a 3 or higher in any category because I've never scored above a 2.x before. I almost got a 4 in Theme! I'm also pleased that the 3.94 score placed me at #189 out of 1365 total 48-hour compo entries.
My rank in the Humor and Mood category placed me in the upper half of the competition entries. I did slightly worse in the Overall category than the last competition; my previous game SWARM received a 2.80 rating in Ludum Dare 30.
The most informative part of this competition for me was having 55 other participants play and comment on my game, which is a new record for me.  Thank you so much!